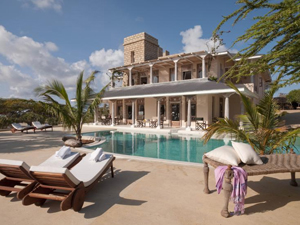 The island archipelago Lamu, since 2001 an UNESCO world heritage, is for many people the epitome of "One thousands and one nights" with its Swahili culture and architecture. It is located 120 to 800 meters off the Kenyan north coast in the indian ocean.
The Majlis Hotel Lamu offers elegant and luxurious accomodation for highest demands in beautiful local design embedded in the natural beauty of Lamu and its tropical location.
The beach hotel facing Lamu island provides 25 Superior and Deluxe rooms, Junior and Royal suites divided into 3 villas. A private veranda with panoramic sea views belongs to each villa which opens onto the white sand beach.
The spacious rooms with traditionally high ceilings, large windows and terraces offers a spectacular view on the beach and ocean, the tropical garden and the swimming pools.
Each villa was constructed by using natural resources, combining white coral blocks with hand-carved timber and has been integrated among the indigenous trees and plants to enhance the beauty of the local surroundings.
The suites are well appointed with a king-size bed draped with roll-down netting, a generous en-suite bathroom, a private veranda , electric fans, air conditioning and a private safe. Wireless internet access is available.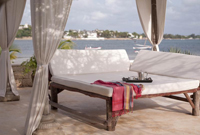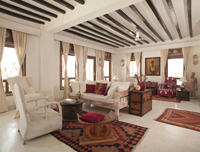 The Majlis Hotel & Resorts Lamu
Ras Kitau Bay – Manda Island
Lamu Archipelago
P.O. BOX 502
80500 Lamu/Kenya
Telephone: +254 (0) 712 3300/1/2
Mobile +254 (0) 773 777 066
Fax: +254 (0) 20 712 3303
welcome@themajlisresorts.com
marketing@themajlisresorts.com
http://www.themajlisresorts.com/
Photos: © Majlis Hotel Lamu