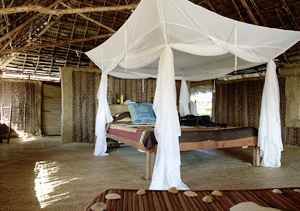 The island archipelago Lamu, since 2001 an UNESCO world heritage, is for many people the epitome of "One thousands and one nights" with its Swahili culture and architecture. It is located 120 to 800 meters off the Kenyan north coast in the indian ocean.
The lodge is situated at one end of a spectacular 12-kilometre beach that stretches from Kizingo to the village of Shela. The Kizingo has eight beautifully appointed bandas (thatched cottages), set well apart from each other.
The bandas are with a large double bed with mosquito netting, high-pitched thatched roofs,shaded balconies and comfortable chairs for lounging. The en suite bathroom is appointed with a flushing toilet, hot water shower, wash basin and dressing area. Hot water and most of electricity is provided by solar panels. Shower water and kitchen grey water is recycled to grow plants and trees.
Kizingo
P.O. Box 138
Lamu, Kenya
www.kizingo.com
info@kizingo.com
Telephone: +254 (0) 733 954770 or +254 (0)722 901544
Photo: © Kizingo