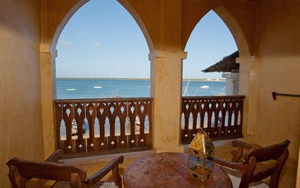 The island archipelago Lamu, since 2001 an UNESCO world heritage, is for many people the epitome of "One thousands and one nights" with its Swahili culture and architecture. It is located 120 to 800 meters off the Kenyan north coast in the indian ocean.
The Kijani Lamu Hotel offers an unique stay on a 3,000sq. meters of tropical garden area.
There are 10 rooms divided to three formerly Swahili buildings spread throughout the garden. The Hotel is located directly at the sea front with two fresh water swimming pools. There are 10 rooms with 26 beds. Each room has its own bathroom and a balcony or veranda with garden or sea view. There is also a safe in each room.
The kitchen offers beside meat and vegetables all types of fish, lobsters, crabs and prawns fresh from the sea, together with African and Italian specialities.
Three airlines are flying daily from Nairobi and Malindi to Lamu Island.
The Kijani Hotel is closed for off season during May and June.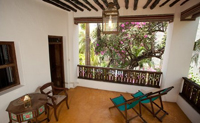 Kijani Lamu Hotel
P.O. Box 266
Lamu – 80500
Kenya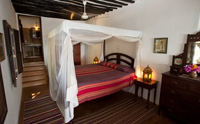 www.kijani-lamu.com
Email: info@kijani-lamu.com
Phone & Fax (wireless):
+254 (0)20 2435700
Mobile Phones:
+254 (0)725 545264
+254 (0)733 545264
Photos: © Kijani Lamu Hotel