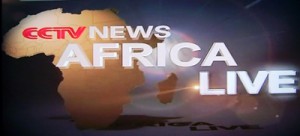 China Central Television – CCTV, the major tv-station in China is not just an ordinary tv-station. As a part of the "department of radio, tv and film" it's an government body which takes control of China's media. There is no right of free speech and only what fits into the government's picture of the world will be broadcasted or published.
Meanwhile it should be well known in the western world how China pursues its economic interests in Africa. Up to now, however, these interests were targeted on raw material mining and the development of the infrastructure to transport the goods. Jobs or education for the local people? Rather less – at the most in the road construction maybe.
However, with CCTV the Chinese also want to conquer the African media market and break the supremacy of BBC and CNN in the international television business. The CCTV headquarter is located in Nairobi. Because China's economic engagement is distributed straight across the whole continent, an African media net should be spun from Nairobi.
A really ambitious plan if one thinks that the CCTV Africa team is not very large, but very young and absolutely unexperienced. Most are in the middle of 20. Nobody has a journalistic education and three of them have left Peking generally for the very first time. So, one can only wish them good luck against the hard-nosed professionals of BBC and CNN. Nevertheless, the lack of journalistic education with a built-in censorship also can become to a chance. Because maybe the freshmen have the heart to do some and report realistically about what happens – just because of pure lack of experience, of course. And Peking is far and there is a time difference of about six hours which doesn't makes it easier for censorship made in Peking when they want to broadcast in time.
Anyway, at the beginning they are planning only one hour of airtime a day. News for Africa with the view through Chinese glasses – in Chinese and English.
But one should not underestimate the Chinese TV appearance. On a long term sight they won't invent the wheel anew in the media. There are enough examples of competitors, which was changed a bit here and there, conformed it to the state doctrine and simply were taken over. As well, the young tv freshers won't stay long amongst themselves, when the old men in Peking decide to adapt their media presence in Africa to their growing hunger for raw material.
Because if one is plundering a whole continent big time, one should let arise a likeable picture of oneself to the public. Then the old-school state journalists, trimmed on obedience, will soon take over the scepter.